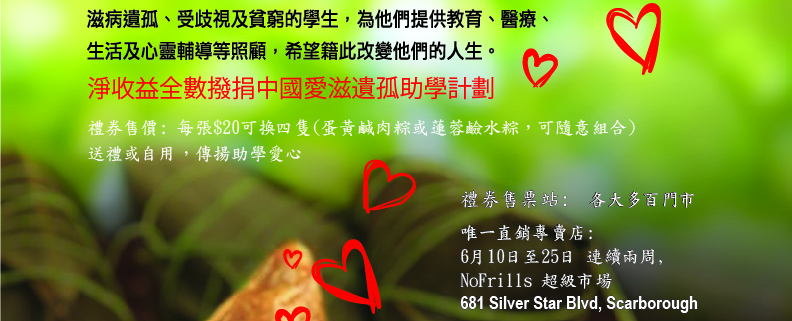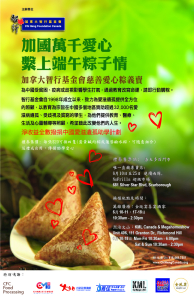 端五佳節又快到來,過往得到很多善長的支持和好評,闊別三年的智行慈善愛❤粽義賣又回來了!為籌備教育經費幫助中國華中地區的愛滋遺孤,真是刻不容緩 ! 從現在開始,愛❤粽禮券已開始在大多百各分店 或 智行網頁 預售。無論送禮或自用,除可與家人共享又可以做到善事,真是一舉兩得,請馬上行動,讓愛繼續傳承!
禮券售價: $20.- 每張禮券可換取 愛心粽 四隻
兩種口味: 蛋黃鹹肉粽或蓮蓉鹼水粽  (可隨意组合)
換領日期: 2023年6月10日至18日
換領時間: 星期一至五 上午10:30  – 下午6:00 ; 週末上午10:30  – 下午2:30
換領地址: KML Canada & Megahomeshow – Unit 406, 111 Granton Dr., Richmond Hill
Rice Dumplings Charity Sale
Dragon Boat Festival is right around the corner! We are thrilled to announce that the Chi Heng Foundation Canada's Rice Dumpling charity sale is back after the absence for three long years. With a pressing need to raise funds to support our educational programs to allow the HIV/AIDS impacted children a chance to education; your contribution will make a significant impact. You can now pre-order the charity rice dumpling vouchers at various The Best Shop locations or on Chi Heng's eShop. Indulge in these delicious treats with your loved ones or spread joy by gifting them while doing a good deed at the same time. Please Act Now and let's continue to pass Love onto those who need it most! For more information, please call 416-449-7501, or click Here to purchase the vouchers.
Voucher Price: $20.-
Redemption Date: 10 to 18 June 2023 
Redemption Time: Mon-Fri 10:30am – 6:00pm ; Sat & Sun- 10:30am – 2:30pm
Redemption Address: KML Canada & Megahomeshow – Unit 406, 111 Granton Dr., Richmond Hill
Each Voucher can redeem for 4 Rice Dumplings. (any combination of four)
Two flavors to choose from: Salted Egg Yolk with Pork (may have peanuts) / Lotus Seed Paste (can be combined as desired)
Voucher Ordering:
https://shop.chihengcanada.org/products/rice-dumplings-gift-voucher
Thank you for your support to Chi Heng Foundation Canada. Since 1998, Chi Heng has been constantly providing support and assistance to AIDS orphans in mainland China, allowing them to receive education continuously. To date, Chi Heng has proudly assisted over 32,000 AIDS impacted children. In addition to providing them with funding for primary, secondary and university education, Chi Heng has also provided other related services such as counselling, vocational placement and community based care. In order to continue all these meaningful and important works, Chi Heng Foundation Canada need your support.