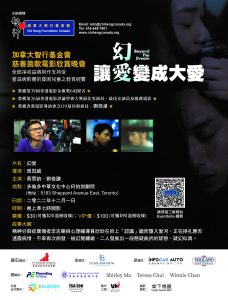 A Charity Movie Event
Movie Name: Beyond the Dream – 幻愛
Date: 1st December 2022 (Thursday)
Time: 7:00 PM (EDT)
Venue: P. C. Ho Theatre, Chinese Cultural Centre of Greater Toronto
Address: 5183 Sheppard Avenue East, Toronto M1B 5Z5
Ticket Price:
VIP: $100 (a $90 tax receipt will be issued)
General: $30 (a $20 tax receipt will be issued)
Tickets Ordering:
https://www.eventbrite.ca/e/let-dream-turn-into-great-love-a-charity-movie-to-raise-funds-tickets-443620951207
About Beyond the Dream – 幻愛
Director: Kiwi Chow 周冠威
Starring: Cecilia Choi 蔡思韵 and Terrance Lau 劉俊謙
★ 6 nominations at the 39th Hong Kong Film Awards – Best Director, Best Screenplay, Best Actress, Best Cinematography, Best Sound Design, and Best New Performer ★
★ 26th Hong Kong Film Critics Society Awards – Best Actor, Best Actress, and Films of Merit ★
★ 2019 Hong Kong Directors' Guild Awards – Best New Performer ★
Thank you for your support to Chi Heng Foundation Canada. Since 1998, Chi Heng has been constantly providing support and assistance to AIDS orphans in mainland China, allowing them to receive education continuously. To date, Chi Heng has proudly assisted over 32,000 AIDS impacted children. In addition to providing them with funding for primary, secondary and university education, Chi Heng has also provided other related services such as counselling, vocational placement and community based care. In order to continue all these meaningful and important works, Chi Heng Foundation Canada need your support.