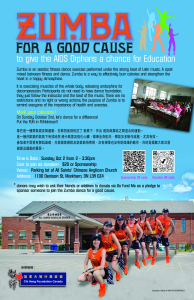 Zumba For A Good Cause
Date: 2nd October 2022 (Sunday)
Time: 2:00 – 3:30 pm (EDT)
Venue: Parking lot of All Saints' Chinese Anglican Church
Address: 1100 Denison Street, Markham ON L3R 0Z4
Cost To Join As Donation:  $20 or Sponsorship
Link for Donation:  https://www.chihengcanada.org/donation/donateForm.php
Link for Sponsorship: https://www.gofundme.com/f/chfc-dance-group?utm_medium=email&utm_source=product&utm_campaign=p_email%2B4940-npo-welcome-wp-v5
Zumba is an aerobic fitness dance exercise performed under the strong beat of Latin music. A sport mixed between fitness and dance.
Zumba is a way to effectively burn calories and strengthen the heart in a happy atmosphere.
It is exercising muscles of the whole body, releasing endorphins for decompression. Participants do not need to have dance foundation, they just follow the instructor and the beat of the music. There are no restrictions and no right or wrong actions, the purpose of Zumba is to remind everyone of the importance of health and exercise.
Thank you for your support to Chi Heng Foundation Canada. Since 1998, Chi Heng has been constantly providing support and assistance to AIDS orphans in mainland China, allowing them to receive education continuously. To date, Chi Heng has proudly assisted over 32,000 AIDS impacted children. In addition to providing them with funding for primary, secondary and university education, Chi Heng has also provided other related services such as counselling, vocational placement and community based care. In order to continue all these meaningful and important works, Chi Heng Foundation Canada need your support.